Orders are shipped next working day if the order has been placed Monday - Friday before 4PM and the product is on stock.
Any orders placed after 4PM Friday and before 4PM Monday will be shipped Monday for delivery Tuesday. 
Deliveries are Monday to Friday only. 
The products stock is shown above the add to cart button.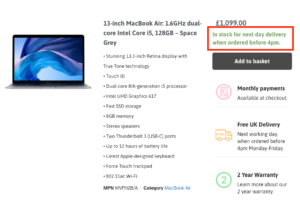 If the product is out of stock then an estimated delivery time will be shown. For example 1-3 weeks. 
Newly released product my have different time frame.
Please take care not to damage the cellophane and other packaging on products that you would like to return.
Customers must let us know within 14 days of receiving their goods that they want to cancel or return items, customers then must return the goods within 14 days once you have informed us. Refunds will then be processed within 14 days of receiving the goods back.
To request an order cancellation or return something, please email webshop@albion.co.uk.
For Configure To Order devices as these are bespoke we unfortunately cannot accept cancellations or non warranty returns.